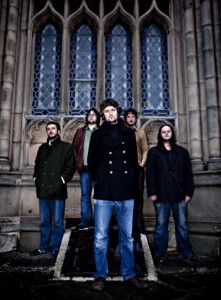 The Cubical is afkomstig uit Liverpool en is een garage-blues band rondom zanger-gitarist Dan Wilson. The Cubical klinkt als een kruising tussen Tom Waits, Captain Beefheart en Frank Zappa, maar dan net even anders, net even iets weirder, en vooral ook, met een heftige dosis energie.
De band heeft de afgelopen hard gewerkt aan hun live-reputatie en staan inmiddels bekend als één van de fijnste, nog niet al te bekende, underground live-bands. Hun optredens zijn beschreven als 'Rock & Roll medicine'  en als een aanslag op de zintuigen. Het knappe aan The Cubibal is dat zij die aanslag op de zintuigen succesvol weten te combineren met het bieden van een medicijn.
The Cubical heeft al drie albums uitgebracht. Het nieuwe album krijgt de titel Blood Moon en zal op vrijdag 19 mei op CD worden uitgebracht.
"If the world were a better place, The Cubical would have number ones all the way. Genius!"   MOJO

"The Cubical are simply not your average band!"   Q MAGAZINE

"Wilson makes Tom Waits sound like Tiny Tim"   THE GUARDIAN